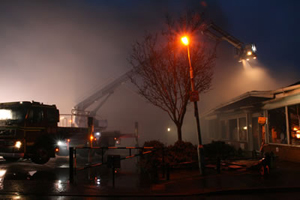 A Co-op store in Waterlooville, Hampshire, was decimated by a fire that rapidly took hold.
The blaze, which started on Saturday afternoon on 5 January, required fire crews to remain at the scene until Sunday, damping down to prevent the fire from reigniting.
It is thought the fire started because of an electrical fault in a freezer.
Thirty firefighters were called to the scene to extinguish the blaze, but were forced to withdraw before the fire caused the single-storey shop's roof to collapse.
Four sets of breathing apparatus, four jets and an aerial ladder platform were needed to extinguish the flames.
Ambulance crews treated three people at the scene for the effects of smoke inhalation, one of whom was taken to hospital as a precaution. There were no further injuries and all members of the public were quickly and safely evacuated from the shop.
Hampshire Fire and Rescue Service group manager Tony Deacon said: "We have seen from fires in similar shops in this area how quickly the roof can be compromised".
"The roof collapsed once the flames got into the roof space and we were left to tackle the fire from outside the building."
According to the Hampshire fire service, two Tesco Express stores in Waterlooville have been destroyed by fire in recent years, one in September 2011 and one in July 2010.
The successful evacuation of all members of the public highlights the effectiveness of proper fire training and, Southern Co-op worker Phil Ponsonby told the BBC that he was "very proud" of his colleagues for ensuring that no customers were hurt.
He also said: "All colleagues undertake fire evacuation training and this paid off on Saturday."
–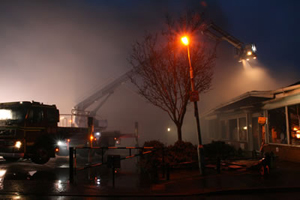 Image courtesy Hampshire Fire & Rescue Service